BUY TWO FREE SHIPPING

Adjust

at will to make your cleavage

more natural
and show a

perfect figure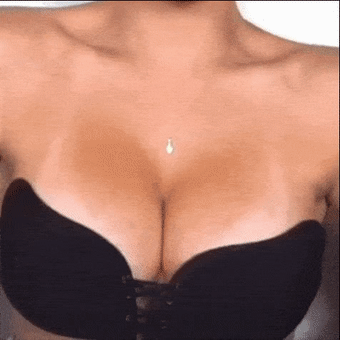 STRAPLESS PUSH-UP - the adjustable drawstring closure will bring your breasts up and together, creating natural and amazing deep-V cleavage.
BREATHABLE SELF-ADHESIVE - the medical grade, hypo-allergenic silicone has hundreds of perforations to keep you comfortable all day (or night) long, and yet stays in place even while providing freedom and flexibility of movement.
WASHABLE & REUSABLE - gently hand-wash with mild soap and warm water, let air dry before using or storing for long-lasting benefits.
COMPLETELY INVISIBLE - Even with no shoulder straps you can achieve maximum cleavage while wearing low cut, plunging, backless, halter, or other revealing style clothing.
PACKAGE CONTENTS - 2 drawstring strapless bras; one black, one beige/nude. Select your size using our handy chart before adding to your Shopping Cart.
It is firmer and not afraid of sweating or falling off. It can be reused.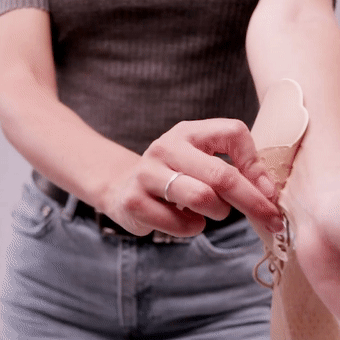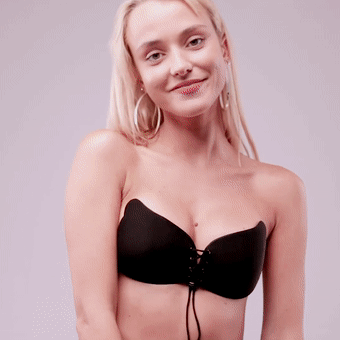 Directions for Use:
Wash your body to remove dirt, oils, and sweat. Do not apply any creams, perfumes, or powders as they will reduce the adhesiveness of the bra.
Loosen the drawstring, remove the protective backing, and stand in front of a mirror. Place bra wings onto your breasts, ensuring your nipples are centred where there's no silicone.
Tighten the drawstring until you have achieved your desired increase of cleavage.
Use both hands at the same time and press each wing to secure them in place.
To remove, loosen the drawstring and gently pull each wing away, starting from the outer edge.
Please Note:
Never use on skin that has a rash, sores, skin disorder, or sunburn, or if you currently have or have any family history of skin irritation issues.
NEVER remove dirt or clean the adhesive side of your bra by scraping it with a fingernail, or using abrasive soaps. Always use mild soap and warm water, and ensure it's completely dry before using or storing it.