Improve Your Guitar Skills the Easy Way!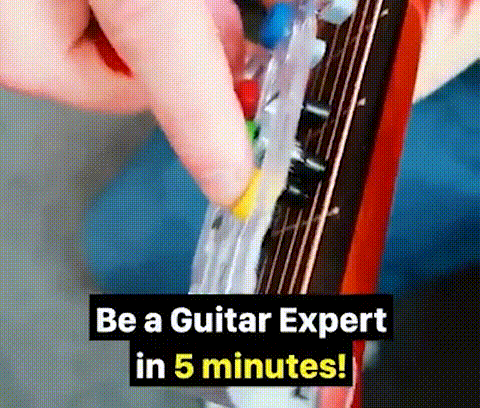 Do you want to get better at certain chords while playing the guitar? People of all ages and levels are learning to play guitar chords the easy way with this Guitar Learning Tool! Everyone can use this tool as an easy way to learn new chords and improve their guitar playing skills. Whether you are a teacher, a child, a senior citizen, or a person with a disability, using the Guitar Learning Tool is the easiest way to improve! 
As soon as the Guitar Learning Tool is properly attached to your acoustic or electric guitar, you will be making music and learning rapidly! Within a few weeks, you'll begin removing some of the tabs and playing the chords on your own. In two months, you'll be able to play the guitar with no help at all! The system works on acoustic and electric guitars and helps you make the C, D, G & E minor chords.
FEATURES:
The easiest way to learn guitar!
Start playing guitar from the moment you install the Guitar Learning Tool.
The

 

neck must be 1 1/2" minimum & 1 7/8" maximum width and from the nut to the 3rd fret should be approximately 4″. If your neck is over 1 7/8" you need the "classical guitar" version. If it is less than 1 1/2" the Guitar Learning Tool will not work on your guitar. The distance from the nut to the 3rd fret should be approximately 4″, any less and the unit may not work properly.
RIGHT-HANDED only.

 

This version only works on right-handed guitars.
The Guitar Learning Tool

 

works on most standard dreadnaught, full-size, 3/4 and 5/8-sized acoustic and electric guitars with average to low string height. This version

 

will not work on 1/2 size guitars. Each guitar is different and installation and fitment can vary.
Shark Tank proven product

 

and is

 

an effective, all-in-one learning system, suitable for all ages when used properly.
SPECIFICATIONS:
Material: ABS
Weight: 110G
Length: 12  x  7 x 2cm

PACKAGE INCLUDES: