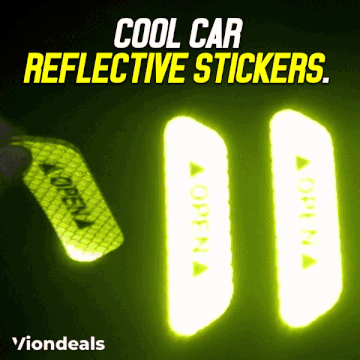 Make your car doors highly visible at nighttime on or dimly lit areas with the Car Door Open Warning Reflective Sticker (4 pcs). These reflective 'open' stickers easily attach to the doors and glow brightly to alert motorists and pedestrians, avoiding accidents and collisions. They improve your driving safety and add colors to your interiors too.
Benefits:
Improve driving safety. Imagine having engine trouble at nighttime, where there is no available light as well. These reflective stickers will make sure your car and its doors are easily seen at a far distance by incoming motorists and pedestrians. They helped prevent accidents and collisions.
Easy installation. Unlike car door lights, these stickers don't require drillings or wirings. They're self-adhesive, making them completely safe and the best choice for your car.
Durable reflective stickers. Made of premium PET material, these stickers are waterproof and sun proof. They won't easily fall off, shrink, or fade.
5 colors to choose from.  Available in yellow, white, red, green, and blue, these stickers can also add colors to your interiors. Perfect to use on any vehicle, they're a useful and fancy gift for the car owners in your life.
NOTE: Please allow 15-25 Business Days for shipping
Click YES, I WANT IT NOW to grab yours today!
Product Specifications:
Package includes: Car Door Open Warning Reflective Sticker

4 pieces (Saved $16.44)
8 pieces (Saved $34.99)
12 pieces (Saved $59.98)
Material: PET + Adhesive
Size: 9 x 2.5 cm/ 3.5 x 1 inches
Color: Yellow, White, Red, Green, Blue